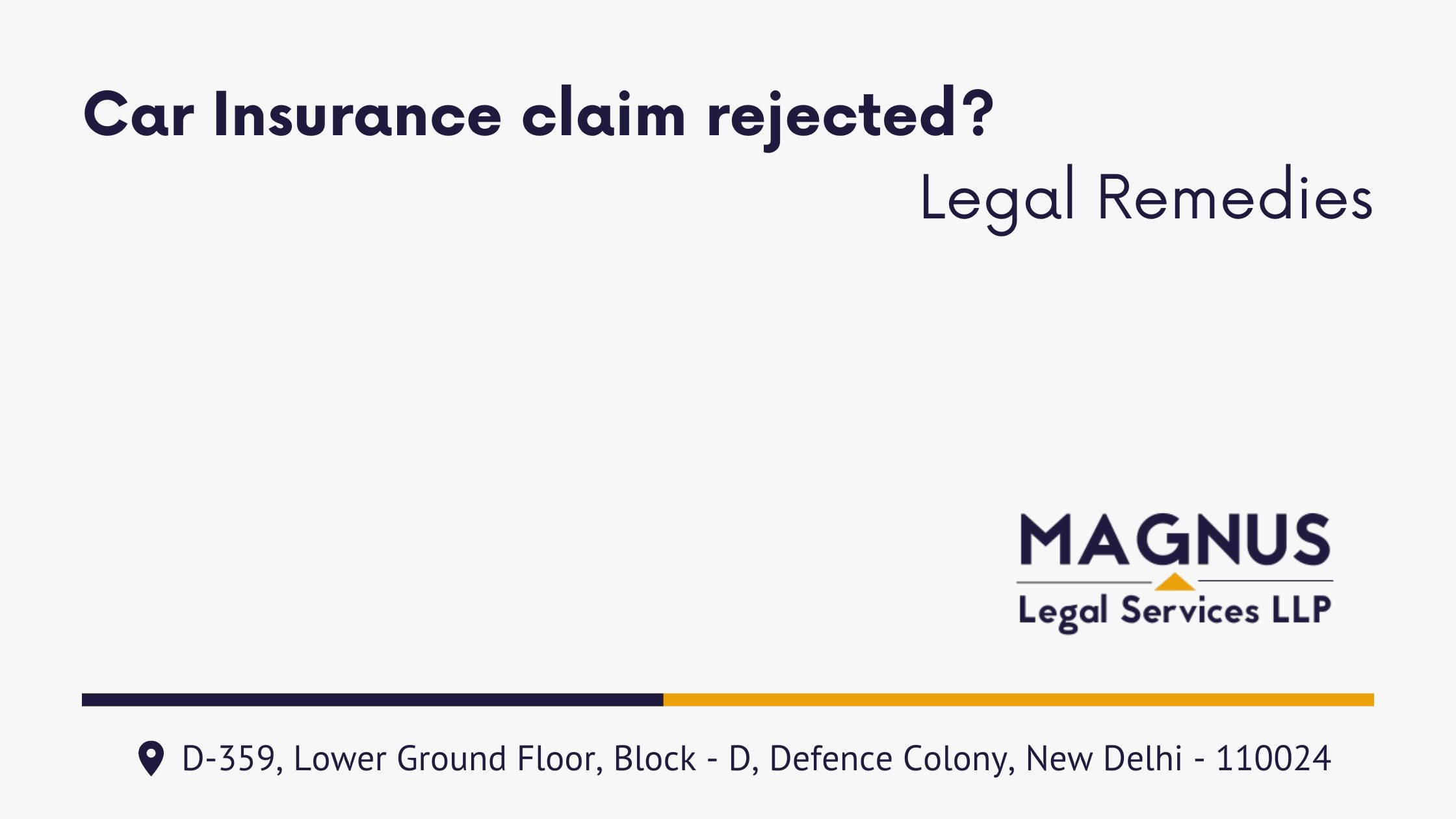 14 Sep

Legal Remedies if your Car Insurance claim is rejected

Just as we seek protection against unforeseen losses, our possessions, such as cars, also require insurance. Car insurance is a contractual agreement between you and an insurance company that offers financial protection in the event of accidents, damages, theft, or other unexpected incidents involving your vehicle. In return for paying regular premiums, the insurance company commits to covering certain costs related to your car as outlined in the policy. We purchase things with the assurance of satisfaction, and the same principle applies to car insurance. Now, let's delve into the advantages of car insurance.
Financial Protection: Car insurance offers financial coverage for accidents, damages, theft, or any other unforeseen events involving your vehicle. Repairing or replacing a car can be incredibly costly, and insurance helps alleviate these expenses by covering repair bills or even providing a replacement if necessary. Without insurance, you could be left solely responsible for these expenses, which could lead to significant financial strain.
Liability Coverage: This covers the costs associated with damage to other people's property or injuries to other individuals if you're at fault in an accident. It's usually required by law in most places to ensure that you can financially compensate others for any harm you might cause.
Personal Injury Protection (PIP): Also known as "no-fault" insurance, PIP covers medical expenses, lost wages, and other related costs for you and your passengers regardless of who caused the accident.
Protecting Your Investment: A car is a significant investment, and insurance helps safeguard that investment. It ensures that you don't suffer substantial financial losses due to unforeseen accidents or events. Knowing that you're protected by insurance can give you peace of mind while driving.
After understanding the significance of car insurance, individuals who haven't yet insured their vehicles will likely seek out car insurance options. It's worth noting that car insurance isn't limited to just one type; multiple variations exist.
Types of Car insurance claims in India
Accidental Damage Claim: Covers damages to the insured vehicle from accidents, such as collisions or overturning..
Theft Claim: When a policyholder reports a stolen vehicle, seeking compensation, the insurance company investigates to verify the claim and assess the stolen vehicle's value.
Third-Party Liability Claim : claim arises when your car causes injury, death, or property damage to a third party.
Personal Injury Claim : If you sustain bodily injuries in a car accident, you can file a personal injury claim to seek coverage for medical expenses, rehabilitation costs, and loss of income due to the injuries.
Own Damage Claim: This claim covers damages to your vehicle caused by events other than accidents, such as fire, natural calamities, vandalism, or malicious acts
Medical Expenses Claim : Some car insurance policies offer coverage for medical expenses incurred by the policyholder and passengers in case of an accident. This claim can be filed to cover medical bills and hospitalization costs.
No-Claim Bonus (NCB) Claim: Policyholders who do not make any claims during a policy year are eligible for a no-claim bonus. They can claim this bonus at the time of policy renewal, which results in a premium discount.
Policyholders should familiarize themselves with their policy's terms and follow the appropriate procedures when filing a claim. Sometimes, claim does not pass and got rejected.
Reasons for Car insurance claim Rejection :
We need to know the causes before arriving the solutions for problems. Reasons for rejection of car insurance claims.
Delay in Reporting: Failing to promptly report the incident to the insurance company can result in claim rejection, as they require timely information to assess the situation.
Lack of Proper Documentation: Insufficient or incomplete documentation, such as missing accident reports, invoices, or proof of ownership, can lead to claim rejection.
Policy Exclusions: Claims that fall outside the coverage specified in the policy, such as attempting to claim for events not covered by the policy type.
Pre-Existing Damage: Claims for damages that existed before the incident or were not caused by the incident may be denied.
Non-Disclosure or Misrepresentation: Providing inaccurate or incomplete information when purchasing the policy, such as not disclosing previous accidents or modifications, can lead to claim rejection.
Lack of Evidence: Insufficient or unclear evidence supporting the claim can result in its rejection.
Nobody likes facing rejection, especially when it comes to car insurance claims. However, is there a recourse available to address rejected car insurance claims? Yes, remedies are there to pursue car insurance claim Rejection.
Remedies
When an insurance claim is rejected, there are several legal remedies available to policyholders. It's important to note that the specific remedies might vary based on the circumstances, the terms of the insurance policy, and the applicable laws.
Appeal to Insurance Company: The first step is to contact your insurance company and understand the reason for the claim rejection. Communicating with the insurer can help clarify the situation. If you believe the rejection is unjustified, you can appeal to the insurance company by providing additional information, evidence, or clarification regarding the claim. This can be done through written communication or by contacting the claims department. Still, you are not satisfied with the response of claims department of Insurance Company, He can approach to Insurance Ombudsman.
Appeal to Insurance Ombudsman: If the appeal to the insurance company does not result in a satisfactory resolution, policyholders can approach the Insurance Ombudsman in accordance with powers specified under Rule 12 of The Redressal of Public Grievances Rules, 1998. Insurance Ombudsman is a quasi-judicial authority that handles grievances and disputes related to insurance. He shall act as counsellor and mediator in matters which are within his terms of reference and, if requested to do so in writing by mutual agreement by the insured person and insurance company. The insurance ombudsman passes an award within three months from the receipt of the complaint from the insured. The awards are binding upon the insurer. If the insured is not satisfied with the Ombudsman's award, he can approach other authorities like the consumer forums and court of law for his grievance redressal.
Appeal to Insurance Regulatory and Development authority of India (IRDA): The Grievance Redressal Cell in the Policyholder's Protection & Grievance Redressal Department of the Insurance Regulatory and Development Authority of India looks into complaints/grievances from policyholders. If they do not receive a response from the insurer within a reasonable period of time or are dissatisfied with the response of the company, they may approach the Grievance Redressal Cell in the Policyholder's Protection & Grievance Redressal Department of the IRDAI.
Policyholders who have complaints against insurers are required to first approach the Complaints/Grievance Redressal Cell of the insurer concerned. Complainants are requested to submit complete details of the complaint as required in the complaint registration form put on the IRDAI website – policyholder.gov.in (http://www.policyholder.gov.in/Report.aspx# ). Registration of Complaints with the IRDAI by Policyholders:
Can make use of the Bima Bharosa system – IRDAI Portal at https://bimabharosa.irdai.gov.in/n for registering the complaints themselves and to monitor the status of the complaints.
Can send the complaint through Email to complaints@irdai.gov.in.
Can call Toll Free No. 155255 or 1800 4254 732.
Apart from the above options, if it is felt necessary by the complainant to send the communication in physical form, the same may be sent to IRDAI addressed to:
Appeal to consumer forum or a court: If above mentioned options fails, only recourse available to policyholders is to appeal to consumer forum. Ultimately, Insurance is also service provided to customers. They designed to handle disputes between consumers and service providers, including insurance companies. Policyholders often get relief from consumer forum.
Appeal to Motor vehicle Accident Claims Tribunal : In case of Motor Vehicle accident and the rejection of claim by the Insurance company, a person can file his/ her application for compensation under section 166 of Motor Vehicle Act, 1988 in MACT i.e. Motor vehicle Accident Claims Tribunal, who will have the jurisdiction to decide the matter if the accident has occurred in his area of jurisdiction.
Documentation of all communication with the car insurer is crucial. In case of rejected car insurance claims, seeking advice from legal experts or consumer rights professionals is advisable. Laws can change, so staying informed about current regulations is essential.