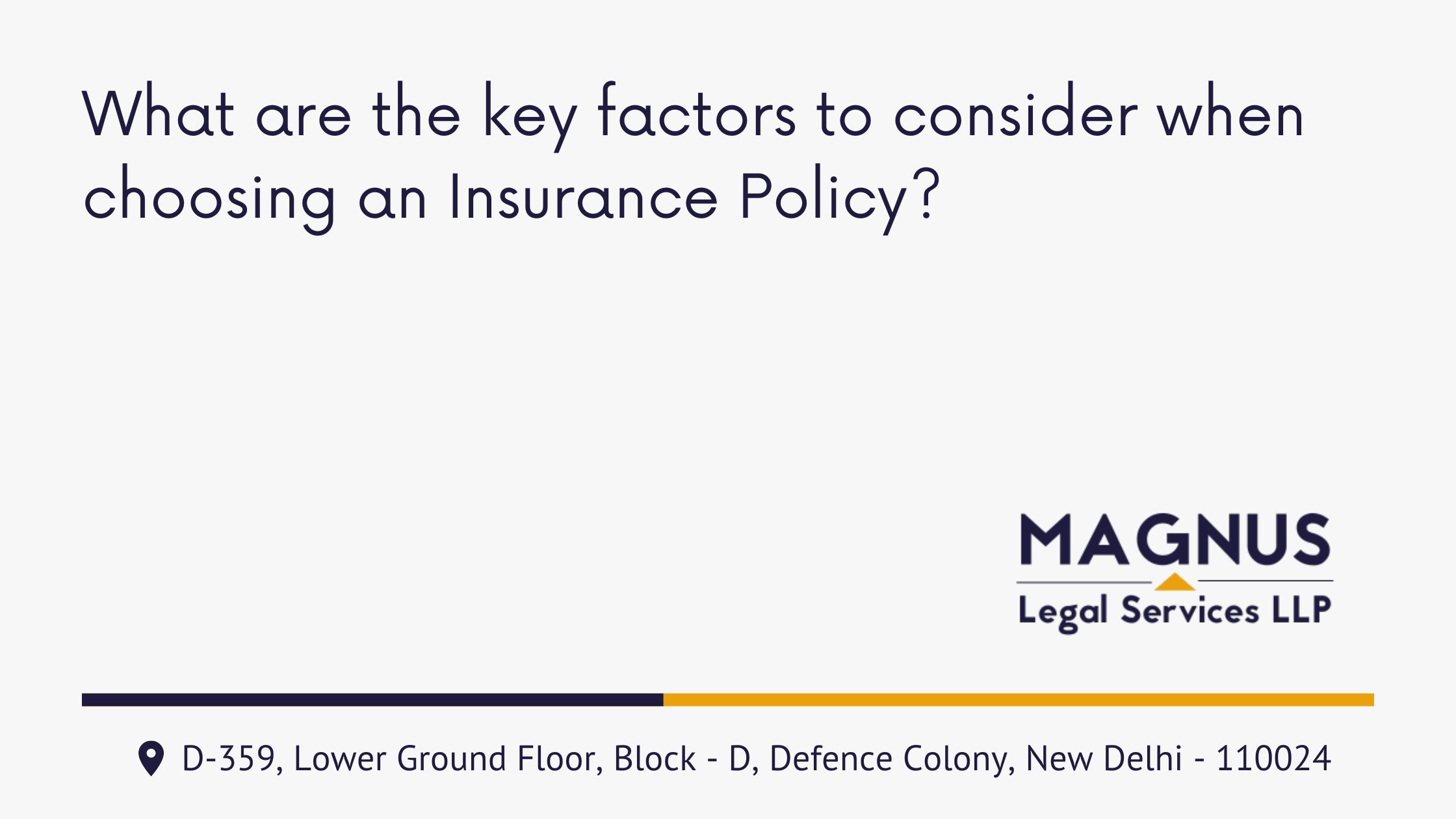 20 Aug

What are the key factors to consider when choosing an Insurance Policy?

Think of insurance like a safety net in our unpredictable world. Life can throw unexpected challenges at us, like health issues or accidents.

Insurance steps in to help when these things happen. It's like making a deal with a company: you pay them a little money regularly (called a premium), and they promise to help you out if something bad happens that they cover.

These bad things could be health problems, accidents, or even really serious stuff like death. When one of these things happens and it's covered by your insurance, the company gives you money to help with the problems that come up.

This money helps you and your family handle the situation without worrying too much about money. Insurance isn't just about money, though. It's also about feeling safer and less worried. Lots of people pay into the insurance system, and that money becomes a big pool to help anyone who needs it.

This way, we all share the risks together, making the world feel a bit more certain even when unexpected things happen. So, whether it's keeping your family secure, protecting your valuable things, or ensuring a good future, insurance gives us peace of mind.

It's a way to plan for the unknown and make life's ups and downs a bit easier to handle. Thus, how common people associated with the insurance. Insurance in India has a long history that's kind of like understanding yesterday to make sense of today. It's like checking the past to see how things have changed.
Evolution of Insurance in India
In India, insurance has a deep-rooted history. It finds mention in the writings of Manu (Manusmrithi), Yagnavalkya (Dharmasastra) and Kautilya (Arthasastra). This was probably a pre-cursor to modern day insurance. As time went on, India looked at how other places, especially England, did insurance and learned from them to create our own ways of managing risks and helping each other when things go wrong. After knowing history, let us move to the present scenario. Ultimately, we have to live in this present world. Learning about key factors will make us aware about the factors that can help us to choose best insurance policy.
Key Factors to consider when doing an Insurance Policy
Type of Insurance policy
Of course! Insurance is like a big umbrella that covers lots of things to keep us safe. While life insurance is really important for our family's future, there are many other types of insurance that help protect us from different problems. These include health insurance when we're sick, car insurance for accidents, and home insurance for our belongings. There's also travel insurance for trips, and even special insurance for businesses and pets. So, while life insurance is one part, there's a whole world of insurance to help us stay safe in different ways. Let's brief them little so that we can understand the importance of each insurance in our lives as aach type of insurance serves a different purpose, so choose the one that aligns with your needs.. The types of insurance in India can be broadly divided into two categories:
General Insurance : Following are some of the types of general insurance available in India:
Health Insurance : Covers the expenses incurred due to medical care.
Motor Insurance : Offer financial assistance in case your bike or car get involved in an accident
Home Insurance: Comprehensive protection to the contents and structure of your house against any physical destruction or damage
Fire Insurance: Coverages that compensate any losses incurred due to a fire breakout with a sum assured. These types of insurance policy usually provide a significant amount of coverage to help both individuals and companies to reopen their places after incurring extensive damage due to fire.
Travel Insurance: Type of insurance policy, providing financial protection for you and your loved ones while you are visiting any place in India or abroad.
Life Insurance : Most common types of life insurance plans available in India
Term Life Insurance: Term insurance is the purest and most affordable among the types of insurance policy in which, you can opt for a high life cover for a specific period. You can secure your family's financial future with a term life insurance plan by paying a low premium (term insurance plans generally do not have any maturity value, and thus, offer lower rates of premium than other life insurance products. If anything happens to you within the policy period, your loved ones would receive the agreed Sum Assured as per the payout option chosen (some term insurance types offer multiple payout options as well)
Whole Life Insurance : Whole life insurance plans, also known as 'traditional' life insurance plans, provide coverage for the entire life of the insured individual, as opposed to any other life insurance instrument that offers coverage for a specific number of years.
Endowment Plans: Endowment plans essentially provide financial coverage to the policyholder against life's uncertainties, while allowing them to save regularly over a certain period. Upon maturity of the endowment plan, the policyholder receives a lump sum amount if he or she survives the policy term.If anything happens to you (as Life Insured), the life insurance endowment policy pays the complete Sum Assured to your family (beneficiaries).
Unit-Linked Insurance Plans: it is a type of insurance plan offered by insurance companies that allows policyholders to invest their premium payments into various investment funds, such as stocks, bonds, and mutual funds. The premiums paid towards a ULIP are divided into two components: insurance coverage and investment.
Meaning of insurance does not suffice to determine which insurance policies to be opted by person. Other factors are play a major role in this process.
Type of Coverage: Different insurance policies have different amounts of protection. What you want to keep safe determines the kind of insurance you need.For example, health and life insurance are really important for everyone. They're connected to staying healthy and taking care of yourself. "Health is wealth" is a saying that fits here. Other insurance depends on what you need and how you live. It's like picking the right tools for your situation.
Coverage Amount : Coverage amount is the maximum amount payable in the event of a claim by the policyholder. It is also known as 'sum insured'. For life insurance, the coverage should be sufficient to replace lost income and cover debts and expenses. For example, if you make Rs. 5,00,000 a year, your coverage amount could be around that much so your family is okay financially if you're not around anymore. Sometimes, combination of income and estimated future helps to determine coverage amount.
Premium: A premium is money you give to an insurance company to protect you from problems. It's like a payment you make to keep your insurance active. You can choose to pay it every month, every three months, or every six months. It's a good idea to save enough money for your premium so you can pay it when it's due. Just make sure the amount is affordable for you!
Policy Term: Policy Term is also essential factor for determing insurance policy. Longer terms might be suitable for long-term financial security, while shorter terms might be appropriate for temporary needs.
Deductions : In India, the government helps us save money through deductions. One way is with health insurance. If you pay for health insurance for yourself, your family, or even your parents, you can pay less in taxes.There's also another thing called "Section 80C deductions." This means you can save money on taxes if you pay for certain insurance things: If you pay for life insurance, you can save money on taxes. If you have something called a "Unit Linked Insurance Plan," you can also save money on taxes.
So, the government is trying to make it easier for us by giving these deductions and helping us keep more of our money.
Insurance is important because it helps us be ready for unexpected things. We decide how much we want to spend on insurance, balancing emotions and practicality. There's no limit to how much you can save for insurance. It's a personal choice based on what's important to you. The government is also helping by giving benefits, but people might still not be happy with insurance services. If there's an issue, they can go to IRDA for help.